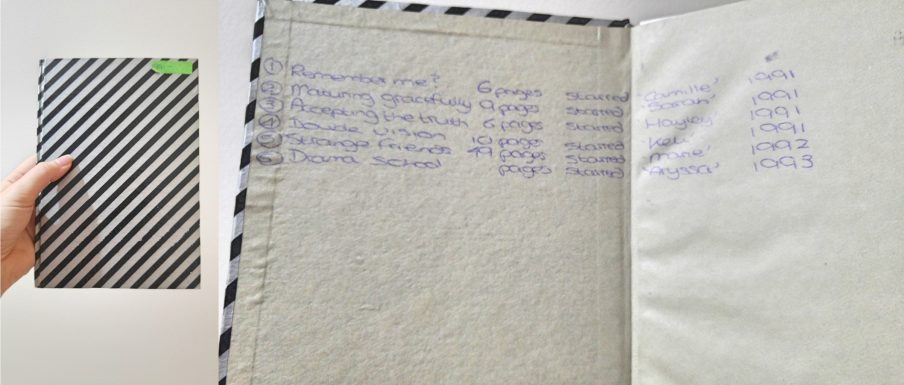 Stories from the Past
In a box buried away somewhere I made this discovery: a book of stories that I wrote between 1991-1993.
I also found several volumes of my teenage diaries (aged 13-18), but they are too mortifying to mention right now (plus I worry that one of them reads like a stalker's handbook for my crush at the time).
Reading through, a few things occur to me. Firstly, I am old. People wound on their cameras, and slammed down phones, and my British teen characters said things like "Sodding brilliant!" and "Sheesh!"
Secondly, in terms of the stories I write, not much has changed! Each one of these stories was dark, twisty, and nasty, and things always ended badly for the characters involved. Seems I always had a love of the macabre, and I have a vague memory of my grandmother asking me "Why do you always have to be so morbid? Why can't you write happy stories?" Sorry, Nanny. I still don't know.
Finally, I like these stories, and am inspired to rewrite some! Sure, they are written by 12- to 15-year old me, with all the finesse (or lack thereof) you might expect of that age, BUT I like some of the concepts. The dialogue is unintentionally hilarious in places, and characters stammer, coo, groan, and otherwise signpost their speech in cliched ways. (We won't talk about my culturally inappropriate writing out of foreign characters' accents…) But the stories hold up.
My favourite is the last one: Drama School. It's about a group of 19-year olds who are performing a controversial play, which they later find out was once used for an ancient magical ritual. Members of the cast begin behaving strangely, and the more they find out about the play, the more they start to suspect that the ritual was not a legend. I am beyond angry with 15-year old me for not finishing this story, as I want to know what happens! It ends with the following:
Becky hugged Aryssa and sobbed for her friend.
"What's happening, Becky?" pleaded Aryssa, clinging to her, scared.
"I don't know!" Becky looked helplessly at Lisa. "I just don't know."
#
Me neither, teenage Sophie! I may need to rewrite it and finish it, just to put my mind at rest…